LAFAYETTE, LA —
Happy Thanksgiving!!!
Happy Thanksgiving from all of us at The Sin Bin to all of you! May you all have a great time with your friends and family this holiday, and don't forget to save the leftovers for tailgating this weekend.
This week in the SPHL, we learn that the Louisiana IceGators will probably not get invited to Peoria for Thanksgiving dinner. Also, the Knoxville Ice Bears are in a bit of a recent hibernation and the SPHL Title Belt gets a brand new owner.
The league office dropped some early holiday vacations on some of the participants of an ugly late-game brawl between the IceGators and Rivermen on Saturday night. The SPHL gave one-game (already served) suspensions on IceGators coach Drew Omicioli and Rivermen center Adam Stuart. Louisiana forward Tyler Barr got a two-game benching, and defenseman Anthony Pisano received a four-game suspension.
The league looks to be dishing out harsher punishments for stick and high-speed head shots than fighting actions. Earlier this season, Rivermen winger Dan Bremner got three games for elbowing, Huntsville's Zach Josepher got six games for a second elbowing offense, and RiverKings center Leo Thomas received nine games for spearing.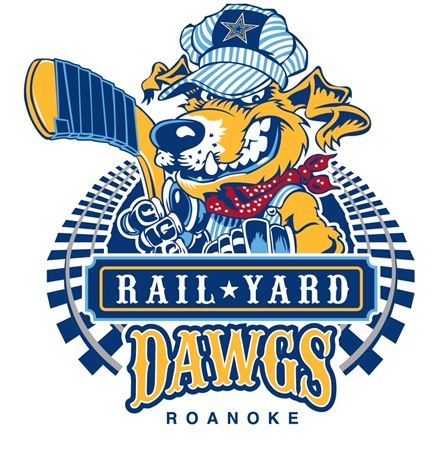 The SPHL's newest team finally has a name. Last week, Bob McGinn, the owner of the expansion Roanoke team, announced the franchise's new name and logo. The Roanoke Rail Yard Dawgs will begin play in the 2016-17 season. Over 500 hockey fans attended the unveiling at the Dawg's new pound, Roanoke's Berglund Center, as the new team began selling season tickets and other team merchandise.
Team Recaps
Columbus Cottonmouths (2-5-3)
Last Week: 1-1-0. The Snakes attempted to build on the momentum of their first victory of the season, but ran into Nick Lazorko and the Fayetteville FireAntz. The Antz won on Friday night, 5-2. Columbus, however, would salvage the weekend against the slumping defending champions with a 3-2 victory in Knoxville. Columbus forward Tyler Henry finished the week with a goal and an assist.
This Week: Tuesday, 11/23 vs Knoxville; Friday, 11/27 vs Louisiana.
Fayetteville FireAntz (6-2-0)
Last Week: 1-1-0. Friday night, The FireAntz made themselves at home in Columbus. Nick Lazorko put up a pair of goals, with Brad Plumton & Kyle Gibbons each with two assists as Fayetteville put five past Snakes goaltender Shannon Szabados in a 5-2 victory. The folks in Macon weren't as hospitable, despite Joe Manno's two goals, as the Macon Mayhem defeated the FireAntz, 4-3 on Saturday night. Berkley Scott had helpers in both games this weekend to extend his scoring streak to seven games.
This Week: Friday, 11/27 vs Pensacola; Saturday, 11/28 vs Pensacola.
Huntsville Havoc (6-4-0)
Last Week: 2-1-0. Kyle McNeil scored twice on Tuesday night, including an overtime game winner, to defeat the Ice Bears, 2-1 in Knoxville. Friday night, Pensacola handed the Havoc a 3-2 loss despite a two point night from Jason Popek. Huntsville would take the Saturday night rematch, however, on Jackson Brewer's shootout goal as 65 minutes of hockey resolved nothing. The Havoc won that game, 3-2, with goaltender Kevin Genoe going a perfect 4-for-4 in shootout saves against the Ice Flyers snipers.
This Week: Tuesday, 11/24 at Mississippi; Thursday, 11/26 vs Knoxville; Saturday, 11/28 at Louisiana.
Knoxville Ice Bears (4-5-2)
Last Week: 0-2-1. Ice Bears netminder Bryan Hince lost a goalie duel with Huntsville's Jordan Ruby in a 2-1 overtime loss to the Havoc on Tuesday night. Knoxville would pepper the RiverKings' Pete Di Salvo for 36 shots, but Knoxville's Braely Torris struggled in net on Friday, letting in four shots out of 21 Knoxville lost to Mississippi, 4-3. Hince would fall victim to three unassisted goals from the Cottonmouths on Saturday, as the Ice Bears extended their losing streak to four games with a 3-2 loss at home.
This Week: Tuesday, 11/24 at Columbus; Thursday, 11/26 at Huntsville; Friday, 11/27 vs Mississippi; Saturday, 11/28 at Mississippi.
Louisiana IceGators (4-4-2)
Last Week: 2-1-0. The IceGators made the long trip north to Peoria in a weekend where Adam Courchaine's netminding would have been the story of the weekend had there not been a brawl at the conclusion of Saturday's 5-2 victory. Courchaine stopped 47 of 49 shots on Friday night and stole a win from the Rivermen in an overtime thriller, 3-2. The Gators provided some offensive help on Saturday, while the Louisiana goalie stopped 38 of 40 and winger Johnny Daniels notched his first professional hat trick. Sunday's game was played without enforcers Tyler Barr & Anthony Pisano and coach Drew Omicioli, and the shorthanded Gators fell despite a 35-save performance from Courchaine, 3-2. Courchaine would make 120 saves on 127 shots in three brilliant performances over the weekend.
This Week: Wednesday, 11/25 at Pensacola; Friday, 11/27 at Columbus; Saturday, 11/28 vs Huntsville.
Macon Mayhem (3-4-3)
Last Week: 1-0-0. The Mayhem took advantage of a short week, and took the SPHL Title Belt from the Fayetteville FireAntz in a 4-3 victory on Saturday night. Connor Toomey had a pair of assists, Garrett Bartus made 22 saves on 25 shots, and Lucas LaBelle scored the game winner with 12 minutes remaining in the game.
This Week: Friday, 11/27 at Peoria; Saturday, 11/28 at Peoria.
Mississippi RiverKings (7-2-0)
Last Week: 1-0-0. Pete Di Salvo made 33 saves on Friday night as the Ice Bears traveled to Southaven in the first rematch of the President's Cup finalists. The RiverKings would score four unanswered goals over the second and third periods, then hold on for a 4-3 victory. Mike Beaudry and Mike Grace would each have two assists against Braely Torris and the defending league champions.
This Week: Tuesday, 11/24 vs Huntsville; Friday, 11/27 at Knoxville; Saturday, 11/28 vs Knoxville.
Pensacola Ice Flyers (6-3-1)
Last Week: 1-0-1. The Ice Flyers traveled to Huntsville for the weekend, and would come away with three out of four points against the rough-and-tumble Havoc. The teams traded 3-2 results on Friday and Saturday nights – The Ice Flyers got 25 saves from Matt Zenzola, and David Segal scored the game winner with 10:59 remaining in Friday's game. Saturday's finale was a chippy affair, with the Havoc and Flyers combining for 90 minutes in the sin bin. Zenzola would make another 30 saves on 32 shots, but fall in the shootout.
This Week: Wednesday, 11/25 vs Louisiana; Friday, 11/27 at Fayetteville; Saturday, 11/28 at Fayetteville.
Peoria Rivermen (6-3-1)
Last Week: 1-1-1. The Rivermen unleashed a barrage of offensive firepower throughout a three-game series at Carver Arena, but could only come away with three our of six points against Adam Courchaine and the IceGators. Dan Bremner and Luke Sandler would score third-period goals to force overtime on Friday, only to be done in by an overtime power play goal due to a Sandler penalty with under a minute remaining in regulation. Timmy Hall would have helpers on both Rivermen goals in a 5-2 loss on Saturday, but would score two goals – including the game winner – in Sunday's 3-2 win.
This Week: Friday, 11/27 vs Macon; Saturday, 11/28 vs Macon.
Our Three Stars of the Week
★ – Adam Courchaine, Goaltender, Louisiana – 2-0-1 Record, 120/127 saves.
★★ – Josh McQuade, Right Wing, Fayetteville – 2 Goals, 2 Assists
★★★ – Timmy Hall, Center, Peoria – 2 Goals, 2 Assists
Power Rankings
Mississippi RiverKings (7-2-0, LW: 2) – The Kings gain the poll's top spot as the Rivermen falter against Louisiana.
Peoria Rivermen (6-3-1, LW: 1) – Peoria dominated statistically against the IceGators, but found themselves playing from behind most of the weekend.
Pensacola Ice Flyers (6-3-1, LW: 3) – The Flyers got the goaltending they needed against Huntsville, and a three-point weekend along with it.
Fayetteville FireAntz (6-2-0, LW: 4) – The game against Macon was one that they should have won, but let it slip away.
Huntsville Havoc (6-4-0, LW: 6) – Huntsville had four penalty minutes in Tuesday's overtime win. Four – that's not a typo.
Louisiana IceGators (4-4-2, LW: 7) – Despite the barrage of shots faced, the Gators defense bent – but did not break.
Knoxville Ice Bears (4-5-2, LW: 5) – Torris is clearly struggling in net, and the Ice Bears are paying the price.
Macon Mayhem (3-4-3, LW: 8) – Their first serious test of the season comes with a trip to Peoria against a frustrated Rivermen team.
Columbus Cottonmouths (2-5-3, LW: 9) – Columbus coach Jerome Bechard needs help in net… now.
League Standings
| | | | | | | | | |
| --- | --- | --- | --- | --- | --- | --- | --- | --- |
| TEAM | GP | W | L | OTL | PTS | GF | GA | PIM |
| Mississippi | 9 | 7 | 2 | 0 | 14 | 30 | 20 | 143 |
| Peoria | 10 | 6 | 3 | 1 | 13 | 27 | 24 | 227 |
| Pensacola | 10 | 6 | 3 | 1 | 13 | 31 | 31 | 233 |
| Fayetteville | 8 | 6 | 2 | 0 | 12 | 27 | 19 | 157 |
| Huntsville | 10 | 6 | 4 | 0 | 12 | 29 | 24 | 359 |
| Louisiana | 10 | 4 | 4 | 2 | 10 | 28 | 27 | 188 |
| Knoxville | 11 | 4 | 5 | 2 | 10 | 33 | 38 | 160 |
| Macon | 10 | 3 | 4 | 3 | 9 | 25 | 32 | 120 |
| Columbus | 10 | 2 | 5 | 3 | 7 | 24 | 39 | 177 |